Day 118
The hostel had all-you-can-eat pancakes and I watched Dinglebeary eat two platefuls while I ate hard-boiled eggs with grits. There was pleasant chatter around the big wooden dining table. Afterwards Sonic and Tracks joined us on the shuttle, but got off in Norwich. Sonic to pick up a package. Tracks as that is where he caught a ride last night.
Within a mile Dinglebeary got stung by a wasp. He is allergic so he carefully monitored the swelling in his ankle. At Three Mile Road, we came upon trail magic. It was a birthday celebration hosted by a thru-hiker's sister. I gratefully chugged a pint of water while All The Way ate pasta and garlic bread. We put on happy birthday glasses and tiaras. When Suspenders (whom none of us had met before) walked up, we joined in on the cheering and watched him blow out a singing, spinning candle.
I enjoyed climbing the north and south peaks of Moose Mountain. What a great name for a mountain! At the next road crossing an older man named Chuck had trail magic water and mountain climbing stories. A couple and their son walked by then returned with fruit and a box of fun size chips. Four more thru-hikers came by and the eight of us sat down to snack and chat with the locals.
We decided to meet Hobble-It at a brook a couple miles past our original destination, which had no water. As dusk approached I spotted a handsome owl. It let me get close and stared curiously. All The Way came along and joined me in watching. It turned out the owl had a mate who flew over. They were both curious and one made an adorable bobbing noise with its head. I wished I had a mouse to offer them. Then one made a noise that was quieter than a screech. Suddenly both flew off and we saw them attacking and scaring off a third owl of the same species.
As All The Way and I sped down the path it got darker and darker. We reached the brook with barely enough light to cross and heard Serendipity's voice. I navigated to the sound and found she had pitched her tent on top of ferns amongst the trees. I pulled out my headlamp and set up my tent nearby. The dead leaves and ferns were surprisingly soft.
Day 119
I slept well and dug my first cat hole in days. We really are spoiled with all the privies on this trail. A half mile along the trail, I ran into Dinglebeary. He and Hobble-It had camped not far at all from our spot.
I felt low on energy and took a couple breaks during the ascent of Smarts Mountain. It had a firetower on top, which I of course climbed. Then came a gradual downhill to a stream where I took a long lunch. I enjoyed the ascent of Mt. Cube. The constantly twisting trail had sections of boulder hopping and traverses of long sloping rocks. The top offered a fantastic view.
At the next stream I came upon Hobble-It and All The Way. They were waiting to intercept me as I intended to go a few miles further, as we all had. I was more than happy to stop and camp with the tramily. It turns out we were all tired in varying degrees. Camping by water was a plus; so far all the shelters and campsites had been dry.
Day 120
It looked to be an easy day with relatively flat terrain. About half way through I heard a noise in the woods and saw a porcupine trundling along. It didn't see me at first and continued to approach. Then it fluffed out its quills and stopped. I moved to get a better picture and it sat back on its haunches with its paws folded in front, such a cute pose!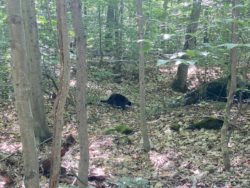 On top of Misty Mountain, which was a short peak, I ran into the others taking a break. By 1 pm, we reached the Hikers Welcome Hostel. Dinglebeary, Hobble-It, and I camped while All The Way and Serendipity stayed in the bunk room. Tracks showed up at 3 pm and camped also.
The hostel had outdoor shower, wash sink, and toilet facilities; all grouped under an open, roofed enclosure. They were easy to access from tent or bunk. However, the staff was disorganized and seemed annoyed by our many questions.
We made plans to slack pack Mt. Moosilauke tomorrow. The hostel typically offers a southbound slack, but we want to stay at The Notch Hostel tomorrow night. It is easier to hike north and have our gear go ahead. (Personally I prefer going north the entire way to Katahdin anyway.) Since we planned to use our regular packs for the slack, the staff gave us garbage bags to fill with our unneeded gear. It began raining as I headed to my tent for bed. The rain didn't last long.
Day 121
I was eating breakfast in my tent when Tracks came over to say the hostel employee wanted our bags right away. It was hasty sorting and packing. Luckily my rain fly and ground cloth weren't too wet as I put them in the bag with my other gear. The hostel gave us a deal on the slack fee since only our bags were going to The Notch Hostel.
It was a steady, yet no hands required, ascent up Mt. Moosilauke. We got rained on for the first half of the climb, but it felt refreshing. I felt so buoyant and speedy with only eight pounds on my back! The 1,800 mile marker was near the trail to the south peak. Then came a corridor between short trees with mist all around. The top was also misty with no view. We didn't linger long as it was windy and chilly.
The descent to Beaver Brook shelter wasn't bad. We took a snack break there. The last 1.5 miles were very steep and a bit treacherous so I took my time. I was so glad we were slack packing as it gave me time to gaze at and take pictures of the continuous series of waterfalls beside the trail. At one point, a frog the size of my thumbnail hopped away.
The Notch Hostel shuttled us from Kinsman Notch to the hostel, which was a large white building with lots of good camping in an adjacent grassy field. Once again Dinglebeary, Hobble-It, and I camped. Near our tents were bushes with raspberries and blueberries. In the early evening we did a town resupply. I met another Strider! Guess there are a couple others, but I am the only female one.
Affiliate Disclosure
This website contains affiliate links, which means The Trek may receive a percentage of any product or service you purchase using the links in the articles or advertisements. The buyer pays the same price as they would otherwise, and your purchase helps to support The Trek's ongoing goal to serve you quality backpacking advice and information. Thanks for your support!
To learn more, please visit the About This Site page.